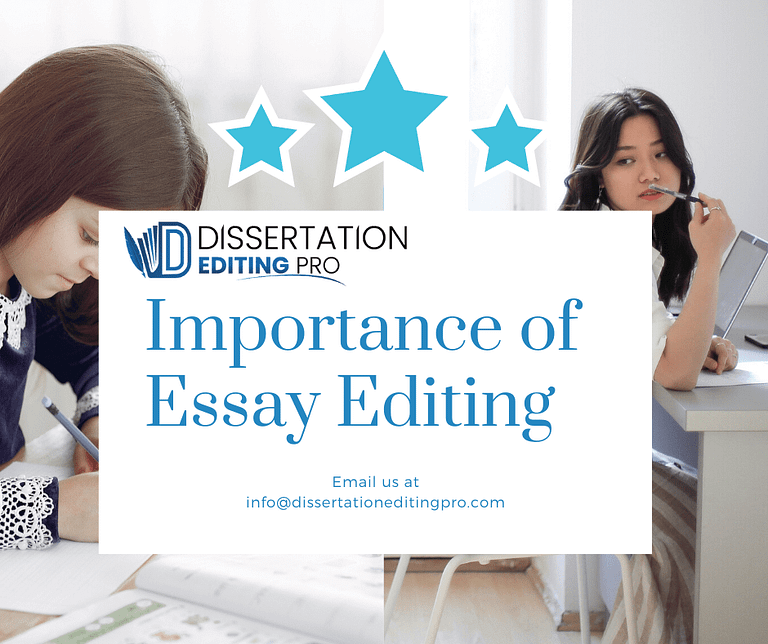 Importance of Essay Editing
It is very frustrating to receive negative remarks on your essay. Though, your instructor is right about how grammatical errors can affect your writing. Therefore, you must improve your essay editing and proofreading skills. If this is not done, these mistakes can have a serious negative impact on your academic career.
Why Editing and Proofreading Are Crucial?
Editing and proofreading are the crucial parts of the essay writing process. It helps with the efficiency of your writing style and the clearness of your ideas. Often, writers and students think they are similar, but there is a major difference between student and writer. Editing requires you to review your essay to check for more important issues, including paragraph structure, flow and vocabulary in your essay. When you proofread, you focus on identifying and correcting errors in writing, grammar, and language.
To begin with, you can review your instructor's comments. Editing and proofreading will help you know what to look for as you start the process. Also, you can do this with essay help UK.
What is the Editing Process?
Editing is a challenging part of essay writing, but it is a skill that you need to learn. There are many features to developing this skill, but we have mentioned some top key points to help your essay editing and proofreading. 
A clear introduction and proper conclusion are needed to deliver a good impression on the reader.
You need to include clear developments between paragraphs of the essay. The structure requires careful consideration to maintain its flow. Each paragraph of the essay needs a topic sentence to introduce the central idea.

The main idea is crucial to include in the essay. The main ideas must be supported with clear evidence. It tells the readers about the aim of your essay. 
The Clarity in Your Essay
Providing descriptions and evidence when needed can increase the clarity of your essay and main idea.  Check the words, the structure of the sentences, and correct the technical terms.
What is the Proofreading Process?
After you edit your research paper, proofreading it with a more closed eye will help you find errors in your essay and make the required revisions to enhance the essay. Alike editing, proofreading requires a systematic style and approach.
Review At Least Twice Before Submitting 
If you think you will find all mistakes on the first read, then you are highly mistaken. Read your essay again and again to increase your focus on the essay. 
Sectioning increases your focus and decreases the irresistible feeling of beginning the entire essay in one read.
Highlight Common Mistakes in Your Essay
Highlighting the errors in the essay will also help you in your future assignments. The more accustomed you are to your mistakes, the easier it will be to avoid them in the future. 
Consider other things 
Editing and proofreading help you become a quality writer. This will also help you with the language you have used in your writing. For example, you want to make sure that you use a formal academic tone in the essay. Also, avoid using passive voice sentences in your essay.
Students ignore tables and figures to present to you if they are preparing a thesis or dissertation. This is crucial in scholarly writing because tables and figures allow the reader to understand and visualize the data.
Tables in the Manuscript 
Tables are used so that readers understand the data without mentioning the content. You must ensure that your tables include a clear title, clear headings, a well-defined body of the data and references and footnotes where necessary. 
Figures in your Manuscript
Figures present information in a visual format, photos, graphs, charts diagrams, and if any other relevant image. Figures give the reader a chance to visualize information that might not be clear in the whole content. Like tables, figures need to identify the information conveyed clearly.
Captions in figures and titles are necessary to introduce the topic.

Figures should be numbered for easy papers and references.

Choose a figure that is clear and easily understandable. 
Hire Dissertation Editing Pro 
Today there are a lot of resources that can help you with this process. For example, Dissertation Editing Pro offers affordable essay writing services and resources to help you become a better writer and learn about grammar issues. Also, how to use tables and figures in academic writing. Dissertation Editing Pro is offering the finest editing and proofreading services to all the writers who find this task devastating.